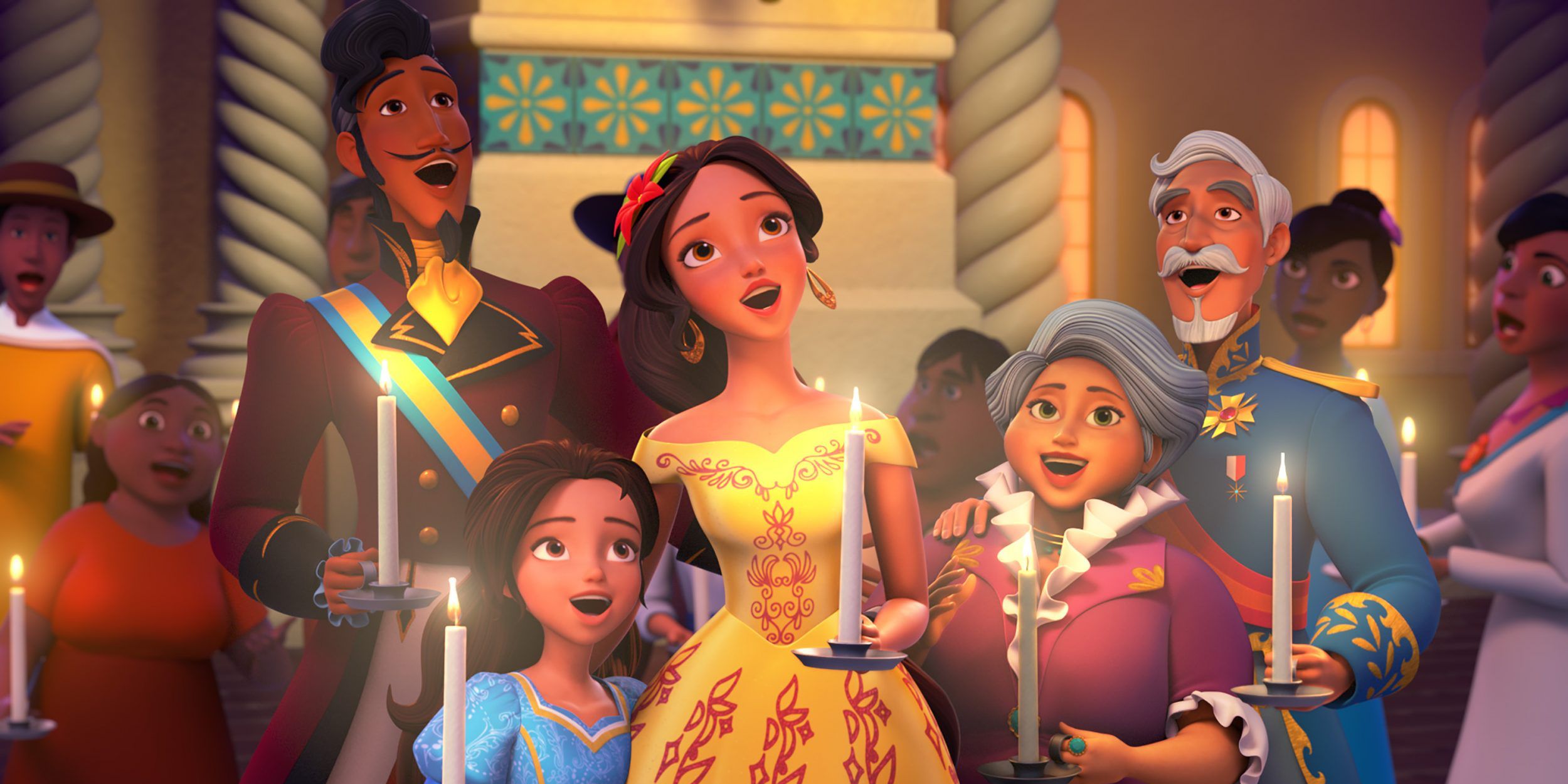 Disney's Elena of Avalor isn't part of the official Disney Princess franchise, which as of 2020 is comprised of 14 exclusive members – but she should be. Typically, Disney Princesses must meet select qualifications to achieve the "official" status: they must appear in their own feature film, be human, and star primarily in a film that isn't a sequel. While Elena doesn't quite meet all of these qualifications, there are several other key aspects of her character and story that make her deserving of the title.
The first and only real obstacle standing between Elena and official Disney Princess status is that Elena of Avalor is a TV series rather than a feature film. The series follows 16-year-old Elena Castillo Flores (who is the same age as five official Princesses) and her journey as the crowned princess of Avalor. After saving the kingdom from an evil sorceress, Elena must learn how to become a thoughtful, compassionate leader (with the guidance of a Grand Council). While Elena doesn't currently have her own movie, she possesses all the other qualities of a successful Disney Princess – she's human, starring in her own show (not a sequel), and represents the quintessential royal heroine commonly present in Disney films.
Related: Every Disney Princess Movie In Chronological Order
Since Elena of Avalor premiered on television (first Disney Channel, then Disney Junior) rather than on the big screen, it didn't receive quite the same audience reception or marketing budget as other Disney Princess films. However, it's been widely praised by audiences for the simple fact that Elena is Disney's first Latina princess. While Disney often favors their best-selling "white princesses" like Snow White or Cinderella, Elena is their latest attempt at correcting their historically white-washed filmography by featuring diverse cultures and identities. The show's creator and executive producer Craig Gerber discussed the portrayal of Latin culture in Elena of Avalor, stating: "It was very important to us that, since we were doing a show with a kingdom inspired by Latin American culture, that we get that right. Even though it's a fairytale world, there are things that feel very authentic." The series uses cultural consultants for everything from dialogue to music, ensuring it remains true to Latin American culture as much as possible.
Though Elena's ethnicity is a major part of why she would make the perfect, groundbreaking Disney Princess, her love life is also unique – namely because she doesn't have one. Apart from Moana, Merida, and Elsa, every other Disney Princess' story is defined by her romantic relationships. Where princesses like Aurora and Jasmine rely on their princely counterparts to save them from unprecedented evil, Elena is representative of a new kind of Disney, where royal heroines are strong-willed and independent enough to save themselves. After the success of Frozen's "Elsa," it would come as no surprise if Elena of Avalor's equally head-strong, "prince-less" princess became a hit among young viewers.
While Elena of Avalor is currently on season 3 (and isn't expected to be renewed), its status as a television show rather than a feature film hasn't made Elena any less visible. Its dedication to tasteful cultural representation, which Disney hasn't always managed – including lead voice actress Aimee Carrero, who is of Dominican and Puerto Rican descent – has made it popular among Latinx viewers of all ages, who have waited years to see themselves portrayed on screen in this setting. This, combined with Elena's flawed, compassionate personality makes her the perfect candidate for the official Disney Princess title. Though it may be years before Disney recognizes Elena of Avalor as part of the franchise, she is already considered one of Disney's most influential role-models for young girls by many viewers, who will see her as a princess nonetheless.
Next: Once Upon A Time: What Each Disney Princess Looks Like In Live Action
Read more about this at: screenrant.com